Here are some pictures of the shelves we installed.  We're happy to leave these in place, as they've been very helpful in food and small appliance storage, as you can see.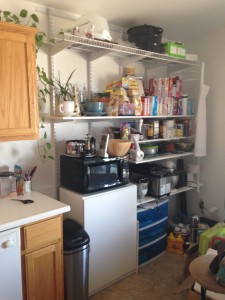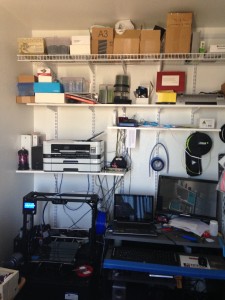 There are a couple of other very minor things we've added which I thought I'd toss in here, as long as I'm taking pictures. We put expanded shower curtain rods in each bathtub… we saw these at the motel we were staying in temporarily when we first moved up here, and thought they provided a nice bit of additional room. They were easy to put up, and not very expensive.
–picture coming soon–
We also changed out the faucet in the kitchen sink. Occasionally large pots and pans were difficult to wash under the standard faucet, and the caulking didn't seem to be very substantial, sometimes dripping water down below when splashed up onto the counter surface. The sink also did not have an extra hole for installing a separate sprayer. So one day in Lowe's I saw this nice faucet with built-in sprayer and single-handle control. Turns out that the caulking around here just doesn't seem to last long with the heat and dry weather, as it was fine for over a year, but now I notice it's a little spotty.
–picture coming soon–
We also obtained two additional garage door remotes (in addition to the one that was provided when we moved in).  We'll leave those with you as well, since they only work with specific "purple button" Craftsman garage door openers.