Force the issue with anyone who says "but I don't like cranberries" — everyone I've convinced to taste them says, "Those are delicious!"
Can be served warm, but I prefer to make mine a day or two ahead, then refrigerate to let flavors intensify a little.  After chilling, it can be served cold or warmed up a little.
Ingredients
1 package of fresh cranberries (12 ounces or so)
2 pears (I prefer Bosc or Bartlett)
2 apples (get the Honeycrisp if you can… sweet is good!)
1 cup bourbon (I caught some Jack Daniels on sale); you could substitute other liquid, like wine, or even Tequila, I suppose
2/3 cup brown sugar
1 teaspoon cinnamon (I used Saigon cinnamon, which is a little more flavorful; if using other cinnamon, add "to taste")
1/4 teaspoon cardamom
Instructions
Rinse and drain cranberries, and place in a large sauce pan.
Peel, quarter, and core the pears, then cut or chop into quarter- to half-inch bits.  Add to sauce pan.  Repeat with the apples.  Sauce pan can be nearly full, as it will cook down by half.
Add bourbon, brown sugar, cinnamon, and cardamom, and stir gently to mix fruit and spices.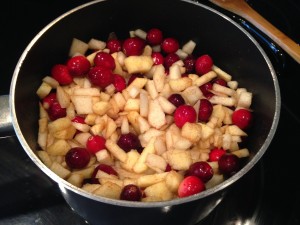 Turn on heat (to medium or a little higher) to get mixture to boiling, stirring frequently to continue mixing. When liquid begins to boil, reduce to a slow boil (just below medium), stirring occasionally and listen to the cranberries pop!  When most are popped, reduce heat to low, stirring gently until liquid is thickened and fruit is soft.  If you see unpopped cranberries, I like to gently press them against the side of the sauce pan to pop.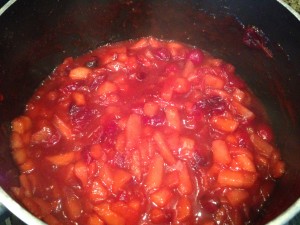 When mixture is thick and soft, remove from heat and allow to cool.
Either serve warm or chill overnight.