We're moved in – but as you might imagine, not totally unpacked yet.
Where We Are and Why We're Here
Over the two weeks prior to Labor Day, we moved from Arizona City to Phoenix.  We rented a very nice house near Elliot and I-10, nestled up against Phoenix's South Mountain Park.
As you might have heard from either of us, Carol was working at Casa Grande Regional Medical Center (CGRMC).  Carol is a Histotech, and was the Histotech Lead in the Pathology Department at CGRMC.
Early in 2014, Banner Health in Phoenix bought CGRMC and renamed it Banner Casa Grande Medical Center (BCGMC).  As part of the purchase, some organizational changes were made, as you might expect in such a situation.  The major change affecting Carol was the closure of the Pathology Lab, with all histological processing moving to Phoenix, by Sonora Quest Laboratories (a joint venture of Banner Health and Laboratory Sciences of Arizona).
But as a part of that closure, Carol was able to transfer to Sonora Quest in Tempe, about 6 miles north of our new home. Here's a small blurb: Banner now owns CGRMC
About Our New Home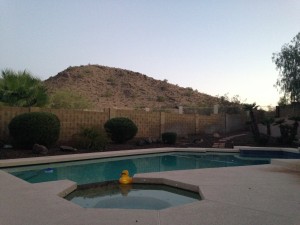 Our new home has a pool!  And the landlord pays for pool service!  So far we've been swimming every day.  It's relaxing, good exercise, and just plain fun.
We've got a 3 car garage now!  I've seen houses with 3 car garages and wondered "why".  Now I know!  Plenty of storage space, and both cars can be parked inside – out of the heat!  There is a gate into the back yard, with a pad for parking the truck, too.
Carol has a whole room for her craft table and supplies, and I've got a whole office space to myself.  Quite nice for both of us – once we get it all set up.  Unpacking… blech!
Upstairs, there are 3 bedrooms.  The master bedroom actually has an attached "sitting room", which we haven't quite figured out what we're going to do with yet.  There is also a sliding glass door to a balcony over the back porch.  The master bedroom itself is larger than the old place, and there is a walk in closet and a regular closet, along with a tub and a separate glassed-in shower.  And two sinks.
Franklin's bedroom is bigger than the old house too, with two windows and a nice closet.
The third bedroom will have our exercise equipment – currently only an elliptical walker.  But as temperatures go down and daily swimming isn't possible, we'll be spending more time here.
Compared to the Arizona City House
Obviously, the new place is bigger, by almost 1,000 square feet.  More rooms, and more room in each room.  And a pool, and 3 car garage vs. 2 before.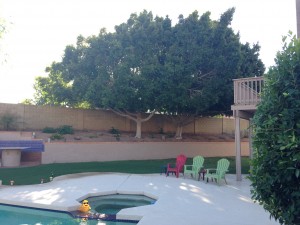 The landscaping – well, let's just say when we moved to Arizona City, it was all brown and lifeless, except for a half dozen saplings that were barely surviving in the heat.  Here in Phoenix, Tom (our landlord) has a thing for green!  There are two awesome trees in the back yard, plus grass and other greenery.  It is quite nice.
The price is more.  We had a bargain in Arizona City: a 1600 square foot house for $650 a month.  Here in Phoenix, around 2500 square feet for… let's just say "a lot more a month".  But given that yard maintenance and pool maintenance is included, we're pleased with what we've got.
Not to mention that in Arizona City, the nearest Safeway store was in Casa Grande – a 13 mile trip (each way), and here in Phoenix, we're about a half mile from Safeway.  And in Arizona City, most everything else was in Casa Grande too: Lowes, Walmart, Walgreens, Target, and any restaurant.  (To be fair, there are a couple of restaurants in Arizona City.  Our favorite, Chris's Diner, is only open from October to April.  The others are very small mom-and-pop type places, and all seemed to have that "built in the 1980's" feel to them.)
Also, we're back on Cox cable service now, with cable TV, phone, and high speed Internet!  No more 5mbps DSL.  And we've got the Cox security system installed as well; goodbye to Front Point and Alarm.com.
The College Kid
Franklin will continue his college education at Central Arizona College.  The Signal Peak campus, where all of his prior semester's classes were held, is a slightly farther drive away, but it's mostly I-10, so still not to long time-wise.  But this semester he also has a class at the Maricopa Campus, which is a little closer from our Phoenix home.
Wrap-Up
We loved living in Arizona City; it had a small-town atmosphere, with few large-company businesses: a Domino's Pizza, a Dollar Store, and a locally owned Ace Hardware.
But there are things about the "big city" (when we were in Tucson) that we missed:
Going to anything (other than Ace Hardware) in under 15 minutes.
Easy access to food, including groceries and restaurants.
Cable TV and high speed Internet!