Note: This post is from early 2013, for what I now call "Weiss Ring #1". There's a new post in March 2022 for Weiss Ring #2. I recommend reading the post below on Weiss Ring #1 first, then see the link at the bottom to the later post.
Well, this morning I experienced something quite different, called a Weiss Ring. One moment I'm in the shower with my eyes closed, and the next, when I open them, there's this very dark, black circle in my right eye's field of view — not directly in the center, but annoyingly close, like 10 degrees above and 20 degrees to the right of the very center.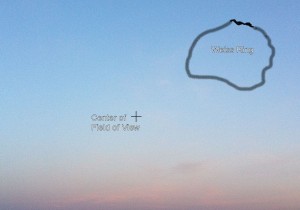 Like most floaters, a Weiss Ring appears to move around as you move your eye, and in my experience, the amoeba-like floaters do actually move around the field of view. But the Weiss Ring is actually pretty stationary in the field of view. Here's my "artist's rendition" of how it looked to me initially (this occurred around 3:15am this morning — I've drawn the appearance against a sunset view just for reference):
Initially, of course, I panicked. What the hell is that!!?? I tried to remain calm, yet felt obligated to immediately tell Carol what I was experiencing. Naturally she had that worried look on her face too, and she asked if I was otherwise feeling okay, and if there was any other sympton I was experiencing. I wasn't, which was actually odd. The usually-expected train of thoughts (for a man 2 weeks shy of 59) went through my head: Is this a sign of stroke? Could it be precursor to a heart attack? Had aliens invaded my head, only to find themselves floating around in an un-funny mass of vitreous humor? (Life note to my readers: Always resort to a little comedy when faced with disaster!)
Carol immediately asked if I had any numbness in my arms or legs, or any chest pains or headache, so I knew her thoughts were tracking mine — except for maybe the alien-invasion thing. But no, really, other than a little bit of emotional panic around this sudden discovery, I didn't seem to have any other symptoms.
We dried off (yes, doing my part for water conservation!), and emerged into the bedroom to discuss the situation further. I decided I didn't want to drive to work in this condition, though there was no pain, and the ring was really more of an annoying distraction than any significant disability. My thought was to research this a little on the web, and then see if I could find an eye doctor in Casa Grande to see.
Side note: my last visit to the eye doctor was summer of 2011 down in Tucson, before we moved to Arizona City. I didn't think it was prudent to drive to Tucson for this, and hadn't as yet had any reason to establish a relationship with an eye doctor here.
I dressed casually (no, home-casual, not work-casual), helped Carol get on her way to work, set up my work laptop at my one-day-a-week work-at-home desk, and created an out-of-office Email response saying I was on PTO today, followed by sending a note to my Business Team co-workers and several other folks that I would be out today. I also recorded a "temporary greeting" on voice mail alerting any callers that I was out. See, I like to communicate effectively.
Then I started surfing the web, starting with such phrases as "eye floaters" and "dark spots in vision". Eventually I read a few articles on floaters, which led me to descriptions of what I now know as Weiss Rings.
What surprised me most about what I was reading is that in general, eye doctors don't do anything with Weiss Rings! Sure, they can be annoying, but only a handful of eye doctors operate on them, and the risks are great. Seems like they only recommend surgery in the most extreme cases.
Then I read about Dr James Johnson at Vitreous Floater Solutions. He is the only eye doctor in the country who does nothing but "floater removal." If you have anything like a Weiss Ring, you should really go to his web site and read. (I just love the way his web site is set up! Every page has questions from readers, and Dr. Johnson answers each one!) I especially recommend going to his Videos & Stories page and seeing an actual "laser zapping" of a Weiss Ring, narrated in real time by Dr. Johnson.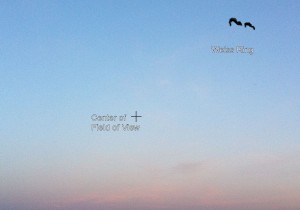 As I write this, about four hours after the initial onset, my Weiss Ring has dissipated somewhat, looking a little more like this.
At this point, I don't think I'm heading in to any local eye doctor, for a couple of reasons:
Much of the recommendation I read says that as long as dark spots like Weiss Rings are not accompanied by light flashes, there really isn't anything you can do about them.
I'm not experiencing any other symptoms.
The circle is gone, and the darkest spots have "softened" a little.
I wrote an Email to Dr. Johnson on his web site, and will continue to monitor this little beastie to see what happens. If it stays with me for a while, maybe I'll be making a trip out to the Vitreous Floater Solutions clinic!
In the meantime, I'll be on the lookout for a game of alien invaders inside my eyeball.